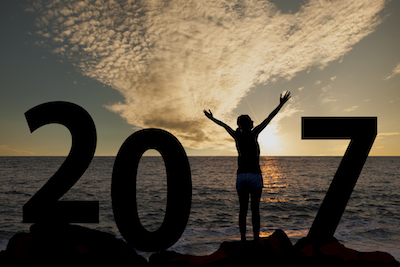 As the first month of 2017 draws to a close, I want to remind all of you to not lose that enthusiasm you felt on January 1. Sure, I don't really know if you were feeling excited and energized that day, but many people were. On the first day of a new year, it's common for people to commit to improving their lives. The problem is, life gets in the way pretty quickly. After the holidays, you settle back into your routine, forgetting about your goals.
Stay Focused
I want to encourage you to remain dedicated to them. Celebrating the new year is a human tradition dating back thousands of years, and it's still important today. True, to some extent, all we're doing is turning a page on the calendar, but I like to think there's more to this tradition than merely marking the passage of time. When we focus on the potential of the new year, what we're really focusing on is our own potential to become new people. That doesn't mean we completely change every aspect of who we are. But it does mean that we take the opportunity to reflect on which habits are helping us thrive in life, while also paying attention to areas where we could make improvements.
Life Is About Balance
In my opinion, living a full life is about balance. That's one of the main reasons I'm a chiropractor. My approach to treatment isn't merely to address the individual symptoms of my patients. Instead, I work to help them make the overall changes they need to in order to enjoy a better quality of life. What those changes are, of course, varies from one person to the next. For example, some people would enjoy life more if they committed to being physically fit. Others may be in good shape physically, but emotionally, they're a mess. For people like them, practices like meditation and guided visualization may be more beneficial. Others may need to change their diets. Some might need to spend more time with family and friends and less time at work. Again, every single person is an individual. What you need to do to improve your life this year isn't necessarily what everyone else needs.
Focus on What Needs the Most Attention
I don't want to tell you exactly what you should do to have a great 2017. Doing so in a blog would be pointless, because anyone could be reading this, and as I've been pointing out, we all have different areas of our lives that deserve our attention. Instead, I simply want to remind you that a new year means a new start. Instead of following the same unhealthy patterns that have been dragging you down, decide that 2017 will be the best year of your life. Making this simple choice can have a dramatic effect on your overall satisfaction. You'll start to make choices that are healthier for you in the long run, and you'll let go of toxic elements that are keeping you from experiencing real fulfillment.
Amazon's New Year, New You
I love Amazon and they are helping all of us find what we are looking for by getting us excited to buy something. They are having special promotions on their New Year, New You Program. It is partly why I wanted to blog about this today.
Even I picked something for myself. It was the Essential Oil Diffuser for Aromatherapy (my last blog). You can check out my blog on this one here. Let me know what you decided to do in the comments below.
Until Next Time….