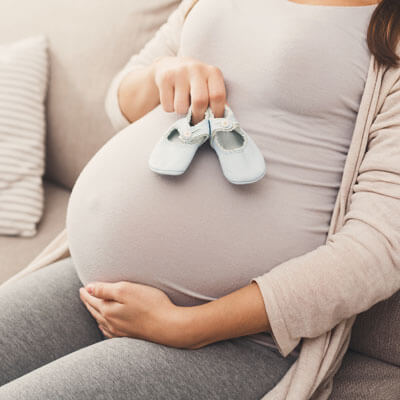 Pregnancy Chiropractic Care
At Johns Creek Chiropractic and Wellness Center, we've seen the power of chiropractic care for pregnant women firsthand—and we can't wait to help you experience it as well.
Just as chiropractic helps children and adults' function to the best of their ability, it does the same during pregnancy—and then some.
Care for pregnant women is designed to reduce pressure on your spine and pelvis while keeping the body in proper balance. Not to mention, it can help your baby get into proper birthing position, have ample room to grow and move, and keeps mom as comfortable as possible throughout every trimester.
Frequently Asked Questions
Absolutely not. In fact, many patients find adjustments during pregnancy to be extremely relaxing and reliving.
When should I start getting chiropractic care during pregnancy?
You can begin chiropractic care at any point during your pregnancy. If you'd like to start care in the first trimester, we can help your body adapt to the changes as they come. Care in the second and third trimester is typically focused on balancing your pelvis and reducing any pain or discomfort.
What is a typical appointment like?
We will not perform x-rays for pregnant women to keep both baby and mom safe. Other than that, an appointment is much like a
regular chiropractic care visit
. We'll speak with you about what's going on with your body and devise a focused care plan—when you're with us, care is always custom to your needs and unique to your body. If necessary, we'll utilize the Webster technique, an adjustment method specifically for pregnant women, which Dr. Joe has been using for years.
How often should I get adjusted while pregnant?
Without knowing your unique situation, it's difficult to say. As a general rule of thumb, we often recommend that women visit us every two weeks to one month during pregnancy. Of course, some patients may require additional visits to feel better, while others may visit us less. Either way, we'll always make sure your body is getting exactly what it needs.
Contact Our Practice Today
Ready to schedule your appointment with us? We can't wait to help you experience your best pregnancy yet. Contact our team to schedule an appointment—we know you'll be glad you did. Get started today!

Pregnancy Chiropractor Johns Creek , Suwanee GA | (770) 623-6880