An Atmosphere for Your Greatest Healing
Since 1998, we've worked hard to help create a relaxed environment where you can count on having efficient and organized visits. We also focus on using advanced technology to provide you an unparalleled approach to care, designed to get you back on the path to vibrant health… and help you stay there!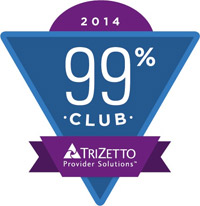 With the efficiency of your visits in mind, we use an electronic filing system through Gateway EDI. This system helps us make your visits as productive as possible saving both you and our office time with faster responses regarding your claims.
99% Error Free Claims
Our staff takes the accuracy of your claims seriously. With hard work, we're happy to announce that we are now part of the 99% Club! This means that Gateway EDI has recognized us, as 99% of the claims we submit are ERROR FREE, giving you the most accurate and timely response possible.
We thank you for trusting your health to us and we hope you always remember we truly do what is best for you, even when it comes to your insurance.
If you have a question about your insurance or want to schedule a time to visit, give us a call. We're always here to help! (770) 623-6880