Here's a yummy, healthy and fun way to cook an Italian favorite!
You will love this version of spaghetti!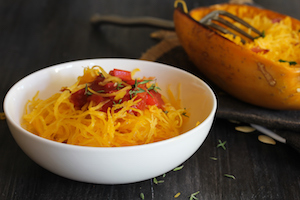 Did you know there is a healthy alternative to spaghetti? For this recipe, you will need….
1 spaghetti squash makes 2 servings
Your favorite marinara (could be homemade), or Alfredo
Spinach ( raw for garnish)
Parmesan cheese or mozzarella or both!
Panko bread crumbs (optional)
Pre-heat oven to 400 degrees F.
Slice your spaghetti squash in half lengthwise and scoop out the seeds. For easy cutting, feel free to stick each squash in the microwave for 5 minutes to soften it up just a tad. The knife slides through way easier this way
Rub the squash down with a little bit of olive oil, place in oven for 40 minutes
While the squash is roasting prepare your sauce
Once the squash is cooked, take your fork and scoop through the flesh to make little noodles. You can remove the noodles or leave them in the squash and serve in a little boat. I like the boat. Add your sauce, cheese, mix thoroughly, cover in Parmesan, and bread crumbs place back in oven for 3-5 minutes until the top is golden brown. Add spinach to garnish, and its healthy greens!
You can have fun with this recipe, make it your own! If you make it let us know!